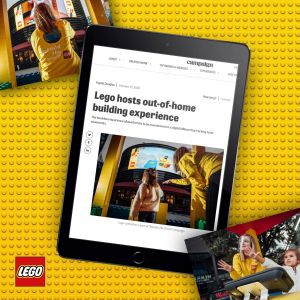 ---
Haptics: Experiencing LEGO in a Touch-Free World
LEGO
---
Agency: Initiative

LEGO's campaigns have become the stuff of legend, but when LEGO briefed in 2020, we knew this year was likely to be different to the past.
As lockdown was lifted and families emerged from the boredom, unlocking children's creativity was important for families and LEGO.
When children touch LEGO, it unlocks their imagination and creativity, and sales sky-rocket, but with retailers operating strict no touching policies, we needed a way to give children a hands-on experience, keeping their hands-off.
In 2019 we Rebuilt The World in LEGO.
In 2020 we had to Rebuild LEGO in the new world.
We partnered with Ocean to create the world's first mid-air haptic technology, using ultrasound-pressurised air, to recreate the physical sensation of building with LEGO.
We then mapped that technology into large DOOH units in one of the highest footfall shopping centres in the UK, and used the screen to visualise what kids were building in the air.
Kids were building LEGO out of literal thin air.
These amazing experiences were captured on video, and then amplified across social media to give us scale.
A record Q4 for LEGO with sales increasing massively.