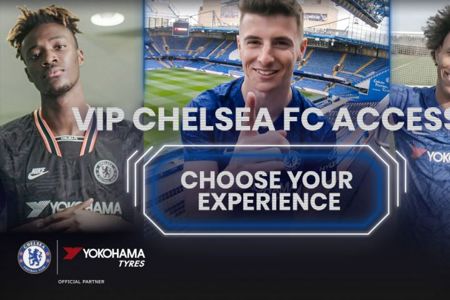 ---
90min & Yokohama: Drive For More
Minute Media
---
Agency: Yokohama

90min is a global football media and technology brand focused on the digital generation. Parented by Minute Media, they are The Voice of the Football Fan, connecting with their audience through their innovative and tech-first approach to editorial, video, and social content. A truly global brand, 90min operates out of six different countries and produces content in 13+ languages connecting passionate football fans to everything happening both on and off the pitch.
For this campaign, 90min partnered with Yokohama Tire Corporation, the manufacturing and marketing arm of The Yokohama Rubber Co., Ltd, to promote their Chelsea FC sponsorship and increased their brand awareness within the football community.
In their partnership with Yokohama, 90min set out to create the first interactive interview within the digital sports space, bringing fans closer to their heroes like never before. The campaign centered around a first person interactive tour of Chelsea FC, where fans were able to explore Cobham Training Facility and Stamford Bridge whilst interacting with Chelsea FC staff and players such as Frank Lampard, Cesar Azpilicueta, Willian Borges da Silva, Christian Pulisic, Tammy Abraham and Mason Mount.