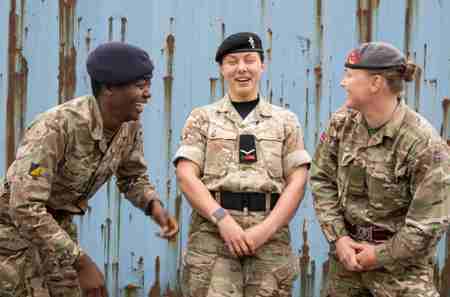 ---
A Soldier is a Soldier
The Army x LADbible Group; OmniGOV @ MG OMD
---
Agency: LADbible Group

We found that 3 out of 4 women don't believe they'd fit in the Army. So, Capita and the British Army partnered with LADbible Group to fundamentally change how the modern female soldier is portrayed, get more women to join and to spread the word that a 'Solider is a Solider'.
We know that representation matters – and our research showed that 99% of Google Images results for terms like 'British soldier' were pictures of men. Meaning that women did not see themselves or diverse careers reflected when they researched Army opportunities.
We wanted to diversify online spaces to instill lasting change. We did this by flooding Google with new photos of real female soldiers in varied roles. We replaced male dominated imagery on the Army's website, Shutterstock and Instagram and boosted their SEO. We also created video content capturing our female soldiers at work hosted on LADbible and Tyla's social channels, raising awareness of our wider mission.
The campaign reached 13 million people and generated a 58% uplift in positive consideration of the Army as a career choice amongst women. The content drove 2000 people to the Army website, and our images of female soldiers now rank first on Google.