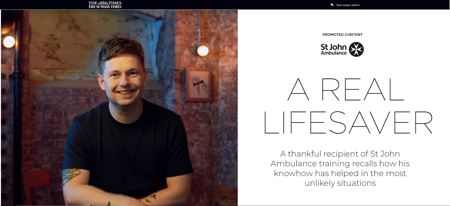 ---
#Ask Me- News UK, Craft Media, Goodstuff
News UK
---
Client: St John Ambulance

We are all familiar with the St John Ambulance and the sight of their emerald-green uniforms at events but very few of us realise the full extent of their services. The charity relies on public funding as well as volunteers who tirelessly deliver its life saving services, yet only 19% of consumers said they would consider supporting the charity.
Using the creative #AskMe platform which puts emotive human stories told from the perspective of the life savers and beneficiaries themselves at the heart of the campaign, we created engaging storytelling content with real life case studies. Our activity ran across The Sun, The Times, talkSPORT, Virgin Radio, talkRADIO and Times Radio using a mixture of video, print, online, events and radio.
Not only did our campaign exceed campaign benchmarks it also made a real difference, with consideration to donate and consideration to volunteer far exceeding benchmarks.