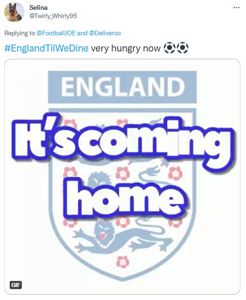 ---
England 'Til We Dine
Deliveroo
---
Agency: Initiative

In June 2021, the wait for UEFA 2020 Euro Championships was over. With all eyes on the tournament, and Deliveroo as the official sponsor of the England Team, it was the perfect opportunity to embed ourselves in football culture. However, with our main competitor sponsoring the entire tournament, our strategy required more than names on kits to come top of the table.
There is no question that when it comes to football, English fans are a loyal bunch. But when it comes to their food, it's a different ball game.
Introducing England 'Til We Dine – playing on the iconic football chant, we launched an integrated media campaign to place Deliveroo at the heart of the excitement, stirring our loyalty to our national team, and our disloyalty to food.
Fuelling the buzz, we coordinated multi-media roadblocks leading up to games, owned the second screen environment during games, tempting fans into new cuisines, and adapted to the evolving conditions with reactive social content to keep Deliveroo on the pulse of football culture. As excitement peaked, we released the chart-topping hit Vindaloo 2.
We started as underdogs but finished top of the table – driving both business and brand performance and outperforming our rivals.