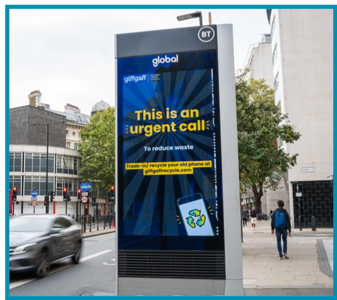 ---
giffgaff gives back
giffgaff
---
Agency: Havas Media & Global

There's a problem in the category. Competitors spend millions advertising newer devices people don't need on tariffs they never fully use. People have succumbed to these conventions and lack awareness of the alternative.
To effectively raise brand awareness, Havas set out their strategy to 'connect people for good', harnessing the brand's challenger spirit to spotlight the category's increasing problems with E-Waste, Isolation and Inequality.
The problems we face require collective action. Global was the perfect ally with the ability to drive positive change. This partnership goes beyond "spots and spaces" to tackle societal problems we face through larger campaign spikes: • 'Have A Proper Chat' tackled the issue of isolation during lockdown. • Pride Connected surfaced LGBTQ+ conversations to encourage wider allyship. • Ultimate Student Package helped a generation disproportionately affected by the pandemic. • An Urgent Call rallied the nation to get their old handsets back into circulation. •The partnership reached 62% of the UK in 2021 •21% uplift in prompted awareness. •31% of Global's audience talked about the brand on social media. •The partnership continues into 2022 having supported over 100 grassroots charities and raised over £75k in donations so far.