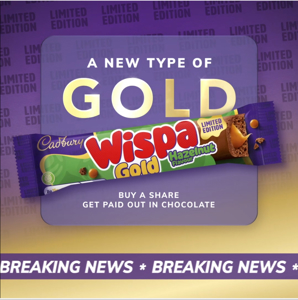 ---
How Cadbury introduced 'A New Type of Gold' and created the world's firstever Chocolate Bar Stock Exchange
Mondelēz | Cadbury Wispa
---
Agency: Dentsu London Limited - Carat

It's hard being a classic in a modern world, always there but never heard, just like a Wispa.
Launching the limited edition Wispa Gold Hazelnut bar within a short sales window meant the pressure was on for immediate impact. Our younger target audience was indifferent to the old favourite Wispa Gold -we were fighting for the attention of a more sophisticated consumer palate. We had to exceed expectations and stir public imagination -bringing about our own type of gold rush.
Tapping into Gen Z's passion for cryptocurrencies and the stock market, we decided to create a 'New Type of Gold' to emulate the buzz of the stock market, where people could invest in our very own Cadbury 'choc exchange,', buying shares in #WispaGoldHF and later convert into real chocolate bars!.
The chatter and hysteria created by 60k Twitter users tuning in to our 'Opening Bell, Live Stream' increased the final share value of Wispa Gold HF, by 500%...a total worth of 6 bars of chocolate!