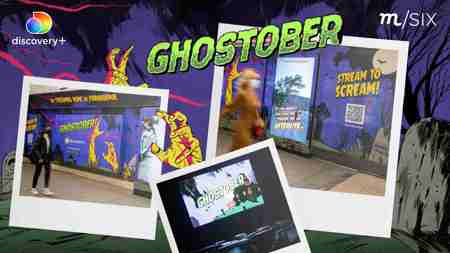 ---
How discovery+ hijacked Halloween to become famous for the paranormal
discovery+
---
Agency: m/SIX

Paranormal programming was one of discovery+' top converting genres in their first year of launch. With Halloween fast approaching, it felt like the perfect campaign to move discovery+ beyond its origins as the 'documentary channel', and firmly establish them on the UK Streaming scene, alongside the giants of Netflix, Prime & Disney+.
To make discovery+ famous for paranormal, we needed to 'Hijack Halloween' dominating both the build-up and duration of this spooky seasonal highlight.
Our PUSH, PULL & PROMPT approach used TV as the backbone of the campaign, using cherry picked top tier paranormal programming to migrate super-fans over to the discovery+ platform. OOH TV was used to target theme-park thrill-seekers atTulley's Halloween Shocktober Fest, providing the perfect environment to reach Halloween super-fans primed for excitement. LU Digiwalls goaded passers by to 'Stream to Scream', and a cross-channel Bauer partnership engaged fans with a ghostly competition in the week running up to Halloween. Geo-fenced digital was cleverly activated to reach people who'd been exposed to the OOH campaign serving them with a tantalising subscription offer. The campaign exceeded all expectations, contributing to 35% of subscriptions taken out over the campaign period and delivering in excess of £100k additional media value.