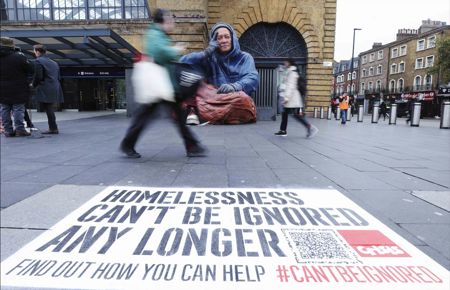 ---
How we made homelessness Impossible To Ignore for Crisis
The Kite Factory
---
Client: Crisis

The services that charity Crisis provide have never been more vital: The issue of homelessness is worsening due to the cost-of-living crisis and the social and economic impacts resulting from the pandemic. Crisis needed a campaign that would drive awareness and consideration of their Christmas campaign in order to have an overall halo effect on income.
Enter Alex: a 4.3m high, hyper-real sculpture, designed to make homelessness impossible to ignore.
Installed at London Kings Cross and Birmingham's Bull Ring, the statue had QR codes and geo-located mobile display to help tell a deeper story and guide the audience to take action.
We took the conversation to a national level, making Alex a focal point for broadcast PR, across TV and print. A powerful 50" hero film was showcased by Channel 4 creating a unique solus break in their flagship 7pm News programme to run a bespoke Premiere Break. This special was supported by a host of cross-platform C4 activations to making impossible to Ignore in media. Consequently, we saw an uplift of 36% to 44% on the metric Crisis provides year-round support and advice for people who are homeless.