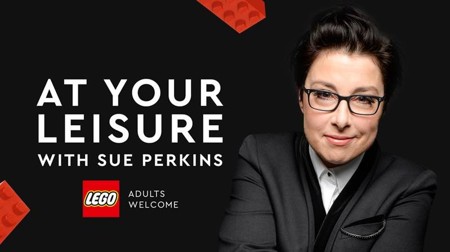 ---
Joyful Focus
LEGO
---
Agency: Initiative

The LEGO® Group is one of the most beloved brands in the world, however it's soaring success amongst children has alienated many adults who think the brand "wasn't for them". We conducted a bespoke quant & qual research study, and discovered that adults were turning to hands-on hobbies to alleviate the stress brought on by lockdowns. This insight unlocked a completely new opportunity.
We created Joyful Focus, a campaign where we shifted from building bricks to managing mindfulness to reconnect with an adult audience. Mindfulness wasn't just the message, but underpinned our entire approach to media.
We teamed up with British comedian Sue Perkins to launch our very own podcast series, featuring aspirational guests to inspire adults to see LEGO in a whole new way. Identifying audio media as the primary environment to reach adults when they were seeking relief from stress, we programmatically targeted stressed-out adults by creating and activating against an addressable audience, based on our survey respondents.
By getting adults hands-on with their passions using LEGO bricks, we were able to bring Joyful Focus to millions of targeted adults across the UK, resulting in the strongest brand and sales performance LEGO Adults had seen in decades.