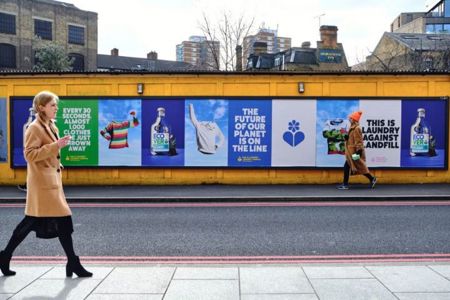 ---
Laundry Against Landfill
Ecover
---
Agency: Goodstuff

Over 1,000 items of clothing go into landfill every 30 seconds in the UK alone, making the fashion industry a bigger carbon emissions polluter than aviation and shipping combined. If we extended the life of our clothes by just nine more months, we could reduce carbon emissions and water waste by as much as 30%, which is why Ecover developed 'Bio Laundry' to help clothes last for longer.
For the first time in the category, we needed to make people care about preserving their clothes rather than just cleaning them, so we created Laundry Against Landfill, a mission to turn eco-worriers into everyday eco-warriors, by educating them on the impact of wasteful fashion.
With our allies, Uncommon Creative Studio, Channel 4, and The Outfit, we tore up the rule book to rebel against conventional FMCG planning wisdom to do the opposite of our category in media. This riskier approach changed the minds of millions in how they care for their clothes and significantly increased Ecover's household penetration.