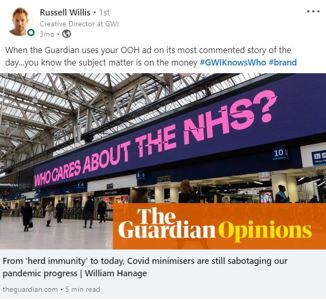 ---
Who Cares?
december19, Truant London and Mediabridge
---
Client: GWI

Work in marketing? We know you're a tough crowd... When was the last time an ad actually stopped you in your tracks?
This was the challenge for GWI; targeting the industry in London, New York & Singapore with a campaign that would provoke and grab them. Delivering that 'ooh that's clever!' moment. Not easy for a B2B research and data platform (yawn).
Hours, days, and months went into meticulously planning a campaign that would stand out in a data-heavy, numbers-driven category. The end result was a witty, thought-provoking, and hard-to-miss campaign that spanned hundreds of formats and copy executions, with media and creative perfectly complementing each other. The cherry on the cake was the alignment of location and messaging - creating the impact that an unknown brand needed. The campaign successfully smashed GWI's brand awareness targets and it's since been rolled out into other territories.