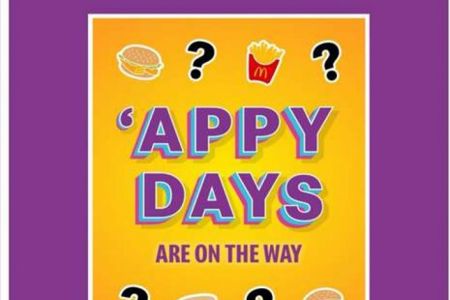 ---
McDonald's Appy Days
McDonald's
---
Agency: OMD UK

January is one of the busiest months of the year for McDonald's and presented a unique opportunity to promote the My McDonald's App with an offer a day for three weeks on the month.
While January is busy for McDonald's, it also plays host to the most depressing day in the year for consumers, the dreaded "Blue Monday" – thanks January 18th. To spread some much-needed love and, dare we say, "Appiness", the campaign was coined "Appy Days" and gave people amazing deals on a range of menu items only redeemable via the app.
The campaign was designed to incentivise app installs and in-app purchases. Channel planning work made it clear Twitter, Facebook, Instagram, and Snapchat were the perfect environments to get people excited about "Appy Days". We'd be joining the January sales battle for a share of consumer's wallets so leveraging the McDonald's brand was vital in first capturing attention. Inviting people to a three week- long "offer marathon" made the app a go-to touchpoint that captured invaluable customer behaviour data and built a better understanding of what creative messaging and products could power our future performance.
Paid media heightened anticipation with mass awareness bursts and drove installs and purchases with carefully crafted acquisition tactics. The results exceeded projections by 39% for App Installs and 46% for purchases, while coming in 43% under target for cost per install and 47% under target for cost per purchase. Everything combined represented a total YoY uplift of 213%.