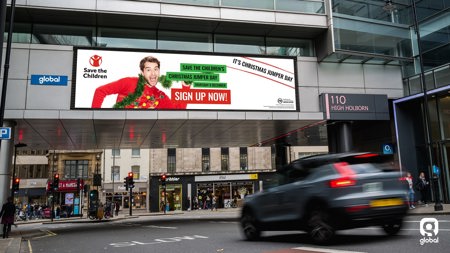 ---
Newsynch with Global & Save The Children 'Christmas Jumper Day'
Global Media Group
---
Client: Global & Save The Children

Newsynch; A new bespoke model and management system able to target by minute increments to synchronise Commercial Radio's Newslink schedule with DOOH display for the very first time.
Visual memories can be triggered by audio cues and vice versa; each channel / sense primes and then activates the other to create a deeper, richer brand experience; critical in a world of message overload.
Armed with this insight, our idea was to design a system that could deliver radio airtime across 271 commercial radio stations with each spot synching up to visual copy across Global's digital outdoor estate via DAX Outdoor.