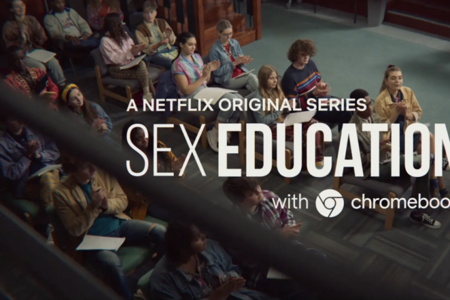 ---
Sex Education x Chromebook UK: Chromebook gets educational with Netflix
Google Chromebook UK
---
Agency: Essence

In January 2020, Google wanted to drive Chromebook consideration amongst students.

There were two key challenges in achieving this;
(1) Students make up 42% of the people in-market considering a laptop, yet under-indexed on Chromebook consideration scores vs competitors
(2) From previous campaigns, we knew traditional 'ads' weren't going to cut it with this fickle audience in digital - cracking the right social and content strategy was key.
It was time to re-write the assignment. To become a credible part of student culture and increase brand consideration among this elusive audience.
We brokered a first of its kind partnership with Netflix, creating authentic content that made Chromebooks a part of student cult hit, Sex Education.
Key to that authenticity was staying true to the tone, characters and style of the show, so we enlisted the show's writers and directors - creating a series of mini films called 'Wouldn't Happen with a Chromebook'. We created 60, 20 and 6 second edits tailored to YouTube, Facebook, Instagram, Twitter and Snapchat, leveraging video ad sequencing that took viewers on the full journey.
Millennials and students loved it; seeing +4% increase in familiarity, +12% increase in consideration and ultimately 11% sales increase across the period.