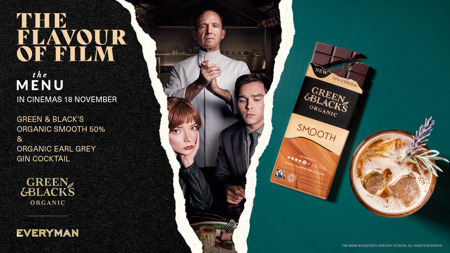 ---
The Flavour of Film
Pearl & Dean
---
Client: Mondelez International : Green & Black's

2022 saw the second year of Green & Black's Flavour of Film partnership with Everyman. The aim was to evolve and elevate the partnership building on Green & Black's reputation for quality, delicious flavour and organic provenance. We wanted the partnership to drive the trial of the wider Green & Black's range and introduce two new flavours to Everyman's audience by creating completely new and unique pairing experiences and bringing the audience even closer to the brand and the partnered films. The campaign focus was to make the ''organic = great flavour'' messaging work harder and achieve cut through.
The partnership included the use of the campaign's bespoke assets throughout the events for the highly anticipated films 'Emily 'and 'The Menu', in addition to the wider media push. Also, a national in-store and print activation with Waitrose, and a full research piece to understand how the brand messages resonate with the core audience. Sampling saw over 48,000 samples distributed and experienced as part of the campaign.
The experiential part of the campaign allowed further elevation across all media platforms, creating additional print, social and web opportunities both at Everyman venues and their wider elements.