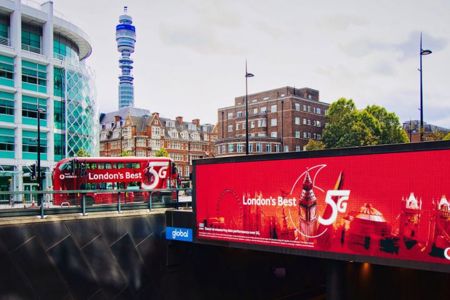 ---
Vodafone Bus Sync
Vodafone
---
Agency: Global

Telecommunications network Vodafone had just been awarded Best 5G in London by an independent survey and wanted an innovative way to highlight their offering to audiences across the capital.
In the spirit of connectivity; we devised a way for our ever-popular bus wrap product to interact with our OOH estate as it made its way through the city.
Ever seen a bus control an advertising board? Introducing Bus Sync. Our innovative new Digital Roadblock that would allow the Vodafone-branded Routemaster to trigger digital outdoor screens as it passed.
The campaign ran on 80 screens throughout the capital, and Vodafone dynamically dominated a 100% SOV on 200 square metres of digital outdoor site the Routemaster was in proximity to, creating a unique visual spectacle for passers-by as the two forms of media interacted.
We made a real connection with the intended audience: those who saw the Bus Sync were left in little doubt as to who had the best 5G in the capital. As part of a sizable campaign; the Bus Sync was top-of-mind amongst high-exposed respondents, with 7 out of 10 able to recall seeing one of the various specific OOH adverts.