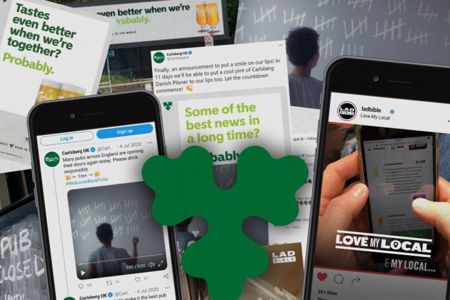 ---
Love My Local
Carlsberg
---
Agency: Initiative

When pubs went into lockdown, Carlsberg lost significant business, and the public a beloved part of their community.
How could we help pubs weather the COVID storm and ensure Carlsberg was top of mind for drinkers when they reopened?
Rising community spirit saw people looking to support their local community, and the hospitality industry was crying out for help. We had to act.
Our strategy was simple: do everything we could to help pubs reopen safely, and encourage drinkers to return safely, by creating a Cultural Contribution.
Welcome Back Pubs an integrated campaign to help pubs and drinkers safely return to their local.
We partnered with LadBible to launch Carlsberg's digital platform Love My Local a free service to help pubs trade during lockdown, and enable hands-free payments once they reopened a game-changer for independent pubs.
We then owned the social conversation in the run to July 4th by building anticipation through social banter and mass-media roadblocks over the opening weekend to ensure Carlsberg was the first beer drinkers called for.