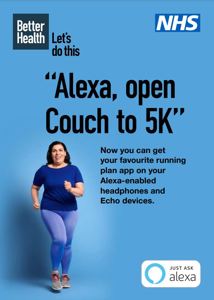 ---
Alexa, how can we use voice tech to keep the nation active?
Wavemaker UK
---
Client: Department of Health and Social Care (DHSC)

With a nation returning to old schedules and bad habits, the Department of Health and Social Care (DHSC) needed to inject some fresh thinking into its established digital app Couch to 5K. Targeting C2DE households, Wavemaker unearthed a steady rise in ownership and use of voice-assisted tech and hearables, and identified a gap in the Couch to 5K functionality.
Working in partnership with specialists Vocala and Amazon's Alexa, we developed a voice experience designed specifically for the newest tech on the market: Echo Buds. Now the Couch to 5K programme is available to runners wherever they need support across all Alexa enabled devices– at home or on the go.
This project has enabled Couch to 5K to stay on pace with technology developments and remain relevant. It's held up by the Government as a best in class example of working with big tech to drive behaviour change in the UK.