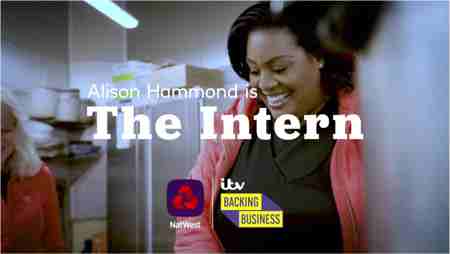 ---
Backing Business with NatWest & ITV
NatWest
---
Agency: Initiative

Despite a year of well-meaning brands overloading our screens with messages of support, pandemic-struck SMEs continued to struggle in 2021. NatWest knew we had a crucial role in helping them weather the storm. But with a tight media budget and a highly competitive market, we didn't want to simply put another 'we're-here-for-you' campaign out there – we wanted our advertising to make a meaningful difference to SMEs.
Introducing 'Backing Business' – a series of bespoke activations to directly support and celebrate the SMEs of the UK. We partnered with ITV to create an airtime fund so SMEs could access advertising time for their own campaigns. To get the word out, we created a TV mini-series, featuring Alison Hammond becoming an intern in different small businesses to find out how they've overcome adversity with NatWest's support, whilst encouraging SMEs to apply to our fund – a true celebration of British Business.
The results were outstanding, with 150 applications (so far!) and a 9.4% increase in SME account openings. But the benefits of the campaign went far beyond our bank - connecting small businesses with practical support, and celebrating them on ITV's massive consumer stage – truly Backing Business in their hour of need.